Pop! Comics: TMNT – Michelangelo (PX Previews Exclusive)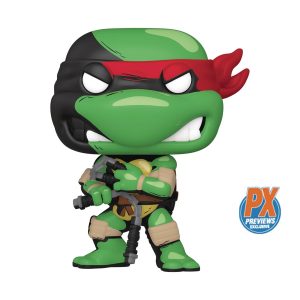 A PREVIEWS Exclusive! Inspired by the now legendary comics phenomenon that took the world by storm, Eastman & Laird's Teenage Mutant Ninja Turtles are ready to hit your Funko collection "air-borne" with a brand new, PREVIEWS Exclusive series of Pop! figures! Michelangelo comes to life in your collection with a comics-inspired cell shaded design.
Equipped with his nunchaku, Mikey wears the classic red bandanna and measures about 3.75 inches tall. Each PREVIEWS Exclusive TMNT Pop! figure comes packaged in a branded window box.
Product Features
3.75 inches (9.53cm)
Made of vinyl
Urban stylized design
Window box packaging